※この記事はこちらの英語翻訳記事です。
So it took a little while, I finally finished writing this: self reviewing of RAGE 2020 Spring Battle Festival.
You may know that I am a Japanese, but this time I participated as an overseas player.
COMFORTABLE ISOLATION
Because of the registration check process, usual player entrance has been crowded at every RAGE. But this overseas entry makes it easier with different entry lanes, and where we have to wait was not as much crowded as usual participants area.
As it is Japanese tourney, all announcement is made in Japanese. So, as the arrangement for non-Japanese speakers, they isolate those who have come across the sea and megaphone some translated announcements to them.
We usually use an app called "Shadowverse Navigator" for recording the match results and even for player registrations, but this app doesn't work overseas... :PepeCry:
We had to write our match results by ourselves. Old school way, huh?
This area has very less capacity than Japanese players' area, and we didn't have to move seats each Swiss rounds.
We didn't have to think like "oh, where is next match table?", or prepare for moving onto the table.
So this complete isolation was really comfortable.
(I'm not going masochistic lol)
Rather those Japanese players come to this area for battle looked feel away each round. 
Actually I've got used to RAGE atmosphere, but this isolated situation supported me to get relaxed more.
RESULTS AND LISTS
Within such an relaxing mood, I went straight to round 5. (7-0 or 6-1 could advance to Day 2.)
But my concentration started to lapse, and made a very tiny mistake at that round.
Losing against 4-0 Float Portal / Shikinami Rune lists, made me dive into losing streak through to 4-3.
I couldn't make it to Day 2 as a result...
I lost one match that I might be able to win, this is a frustrating end.
Being cool enough and concentration were very important to keep winning.
Here're my lists.
Natura Dragon
▲Malion supports your aggressive plans. He was MVP.
There was less AoE in early-middle games and it took a little long for lethal at that meta. Sometimes I just play small stats followers and win without critical cards.
In the list, I put Shiva for stopping enemy Storm followers or catching up some damages.
Also Kaya, Draconine Brawler was good for both damage source and removal plus clearing enemy Ward.
Some Clash of Heroes were for high health followers like Ceres, Eternal Bride, but I had few chance using them. Could be better changed to other cards.
Shikigami Rune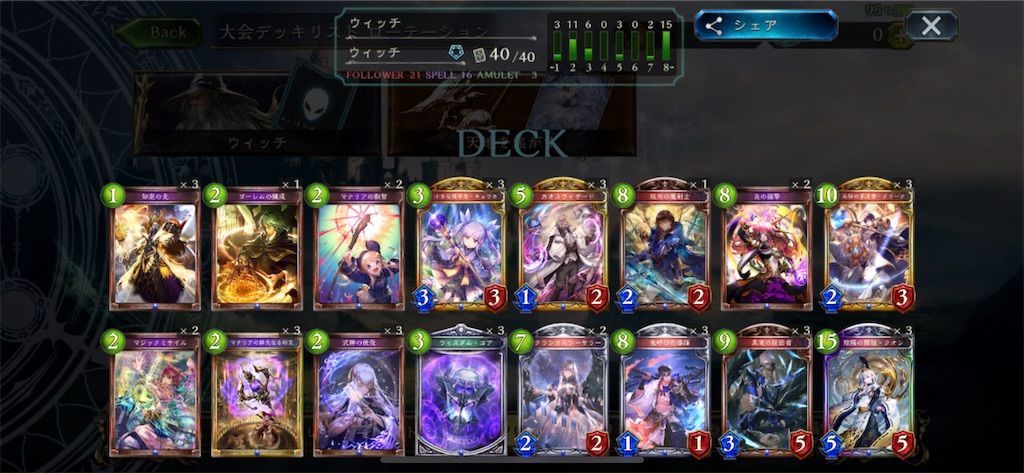 Conjure Golem was to earn Spellboost and activate Sagacious Core in only 2pp.
I still don't trust Traditional Sorcerer, maybe 3 copies are too much, and even 1 copy is enough, because you can copy her during the match if needed.
I rather like Twinblade Mage who can remove enemy Traditional Sorcerer in mirror matches, or One-Tailed Fox aganist Shdow matches with dealing damage to enemy leader.
In close matches, I thought attacking was effective than bracing in fact.
And this depends on your luck, number of over 8pp cards should be under 15, that is why my Kuon bricks few times.
SHUT OUT DISTRACTION
At this time, the table number haven't changed during the Swiss rounds. And this made me play next to my friends Akamarured (Panda Global) and sWay (Twighlight Knights).
Somehow it happened, and I got more relaxed surrounded with people I know.
By the way, a decisive encounter, Akamarured VS GEMO (AXIZ, a team from Japanese proffecional league) was on play right next to me in round 7.
GEMO had top average in latest RSPL players, and was super strong enough at RAGE too.
Focus and Headphones
Card games are rapidly changing situations. Players are required to concentrate with iron hard mentality.
At RAGE, so many people moves, so many noises heard, and so many external factors make you lapse of concentration.
It's not only a huge competitive tournament, but also a huge offline gathering event.
▲It's named "Concentrate" in JP text. lmao
They always hold some side events and stage events in the same venue.
I would bring my headphones to get concentrated more even I don't wear usually.
...I must be able to win that Portal match and go 5-0 if I could focus more on my match. :PepeCry:
Invisible Enemies
This often happens when you're an overseas player, but some unexpected accidents bother you, like SIM disconnection or so.
I got my Shadowverse App crash during the battle of round 2, and could do nothing for whole turn. I was lucky the connection was still alive and could continue the battle. (And won that one.)
This reminds me same thing happened to my opponent at RAGE of Rebirth of Glory meta. (And I got that battle, too.)
It's really important to perform the best whenever you face to unexpected situations.
A REV FINALIST OF RAGE
After whole tournament ends, one of us made it through to the finals.
Congrats, Shimon!!
I'm really glad that one of the Revelation, one of my friends become the top 8 of RAGE.
【📢ファイナリスト情報公開📢】
RAGE Shadowverse 2020 Spring

3/15(日)GRAND FINALSに向けて
ファイナリスト8名のプロフィールが公開📣

予選を勝ち抜いた精鋭8人の特徴は⁉︎
今すぐサイトをチェック👏

URL▶️https://t.co/StzCAeYGMm#RAGEシャドウバース #eスポーツ

— RAGE (@esports_RAGE) 2020年2月25日

Of course I do support him and hope he wins as a teammate or friend, but also I strongly wish he wins for himself. 
#SHIMONWIN
#REVWIN
By the way, I've always wavered the RAGE winner prediction, but looks I don't have to this time.
ggwp and glhf.